All of our tours are fully customizable. Get in touch and we'll assign you a dedicated travel designer who will work with you to curate your perfect trip.
9-Day Private Family Tour of Taiwan Itinerary
Day 1 – Taipei and Leofoo Safari Theme Park
Fly into Taiwan Taoyuan International Airport near Taipei. It's never takes more than an hour to get from the airport to Leofoo Resort, so if you're not too tired after your flight we can add a fun stop along the way.
One popular option is the old town of Daxi, where the streets are lined with gorgeous prewar Baroque-style merchants' houses. Several specialise in the tofu products for which Daxi is famous. Just outside Daxi there's a strange yet photogenic collection of statues. Gathered from all over Taiwan, these statues – which vary hugely in terms of size, style and material – are all of Chiang Kai-shek, the former president. When the political climate changed, they were 'retired' and moved here. Both the old streets and the statue park are good places for little ones who want to let off some steam.
Of course, if you'd like to go straight to the resort, enjoy the sight of wonderful creatures just a few metres away, and try some of the various activities, your wish is our command.
Day 2 – Taichung
After breakfast in the resort, you'll have as much time as you like to enjoy the entire theme park, because the drive to our next stop takes no more than two hours. We can make at least one halt en route, perhaps in the vicinity of the woodcarving centre of Sanyi to visit Shengxing Railway Station and Longteng Broken Bridge. The former is a gorgeous Japanese-era wooden building at the heart of a picturesque village. The latter is what remains of a railway bridge built in 1909, damaged beyond repair in a terrible earthquake in 1935, then further wrecked in another big quake in 1999.
Taichung (now officially Taiwan's no. 2 city in terms of population) is a thoroughly modern metropolis with an excellent range of dining and shopping options. Tell us what you want to see and would like to eat and we'll lead you to the right places.
Day 3 – Kenting National Park
We're heading to Taiwan's southernmost tip. Kenting National Park's fabulous beaches, glorious sunshine and enticing restaurants have made it the country's leading seaside resort.
You'll be staying right by the beach and free to take a dip whenever the mood strikes you. Today or tomorrow, if you'd like to go beyond the busiest part of the coast we can lead you to sites of ecological interest like Kenting National Forest Recreation Area and Sheding Nature Park, the sunset-viewing ridge called Guanshan, or Jialeshui over to the east. At the last of these, the forces of erosion have created an extraordinary selection of wind- and wave-sculpted rocks.
Near the hotel there's a very good range of dining options, Western and Southeast Asian cuisines as well as Taiwanese fare and, naturally, seafood.

Day 4 – Kenting National Park
You've a whole day to use as you wish. All you need to do is decide how much of it you want to spend on the beach and the kind of scenic spots you'd like us to bring you to.
Many visitors choose to take a closer look at the ancient and characterful town of Hengchun; kids in particular adore the old city walls and city gates. Going a little further, we can enjoy the National Museum of Marine Biology & Aquarium. This highly informative and child-friendly museum has interactive displays about coral reefs, the world's oceans and Taiwan's maritime environment. Every day, shows and feeding activities feature the resident whales, sharks and penguins.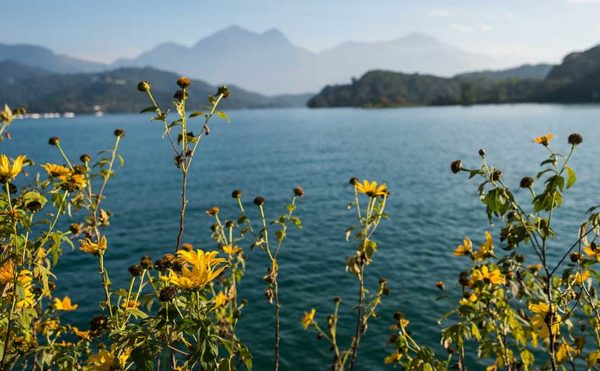 Day 5 –  Sun Moon Lake
A reasonably early start is in order because it takes a bit over four hours to drive from Kenting to Sun Moon Lake.
Proceeding almost non-stop makes sense so you can rest for a while in your hotel at the lake before enjoying a delightful afternoon cruise on a private boat. Once you've had your fill of views of this shimmering body of water and the mountains that surround it, we'll bring you back to your hotel so you can relax before dinner.
Day 6 –  Sun Moon Lake
Almost everyone agrees that just after daybreak, as the sun climbs up over the nearby peaks, is a splendid moment to appreciate the beauty of Sun Moon Lake. Whenever you're ready, we'll likely visit Cien Pagoda (built on the orders of Chiang Kai-shek to honour his late mother) and other lakeside attractions.
Taking the cable car from the lakeshore to the Formosan Aboriginal Culture Village theme park is worth it for the splendid panoramas alone. That said, families have a great time in the park itself, as it has some appealing demonstrations of indigenous music, dance and arts, as well as a good number of thrilling rides
Day 7 –  Taipei
The drive into Taipei is likely to take three hours but this can be broken at the Flying Cow Ranch. This sprawling recreational farm has horses, sheep, goats, rabbits and ducks as well as cattle. There are plenty of other stopover options – so just let us know what type of thing appeals to you.
As we get you checked into your hotel in Taipei, we can finalise a plan for the rest of the day that matches your interests and energy levels. Late afternoon is the best time to go up to the observatory at Taipei 101 for sunset views over the city and beyond. There's no need to leave the building for dinner: The world's second-tallest skyscraper has its own branch of Din Tai Fung, the rightfully world-famous dumplings restaurant, and several other eating options. Taipei 101 is in the heart of Xinyi District, the city's most modern shopping area, so the evening may be a good time to get some souvenir- and gift-buying done.
If you're less ambitious, we can leave Taipei 101 to tomorrow and instead do nothing more strenuous stroll around Chiang Kai-shek Memorial Hall, a landmark dedicated to the Nationalist Chinese leader who was Taiwan's president from 1949 to 1975.
Day 8 –  Tamsui Northern Coast
Off to the seaside! Today we'll take a look at Taiwan's rugged north coast via Tamsui. One of the most visible landmarks in this historic riverside town is the castle-like Fort San Domingo, built by the Dutch on the site of a Spanish stockade, then later occupied by the British. A fun thing to do while in Tamsui is take the ferry across the estuary to Bali, an even smaller town but a good place to see crabs and mudskippers.
After Tamsui and Bali, we can enjoy seafood at nearby Fuji Fishing Harbour, splash in the water at the beach called Baishawan ('White Sand Bay') or continue northeast along the coast, stopping wherever you want to take in the view or stretch your legs. Visiting a family-friendly hot spring is another option, as both Jinshan on the north coast and Yangmingshan National Park are riddled with places where naturally-heated mineral water rises to the surface.
Day 9 –  Wrap Up
Whatever time your flight out, we'll help you make the very most of your final day in Taiwan. If you have shopping needs, we'll guide you to the right part of the city to fulfil them. If you think the kids need to burn off some energy before getting on the plane, we can bring everyone to a park, a short hiking trail or (if the weather isn't favourable) a mall.
Please contact us if you are interested in this 9-day private family tour of Taiwan. If the 9-day family tour of Taiwan is not for you, take a look at the 7-day private family tour of Taiwan or the 5-day Private family tour of Taiwan.